PALAZZO RICCI
PRIVATE RESIDENCE CLUB™
About Palazzo Ricci™
A palace built for Italian nobility can now be yours.
Palazzo Ricci™ is a 220-year-old palace built in 1799 for the Ricci family of Italian nobility, in Casoli, Italy. The Palazzo Ricci™ is being completely renovated to meet the highest standards of luxurious living, preserving the original classic design and details of this noble palace.
The project will have 14 luxuriously-appointed residences, with complete 5-star amenities. The exterior will capture the old-world charm of Italy along with the grandeur of an 18th-century palace. 
The residences will include the most luxurious features and romantic accommodations found at the finest resorts in the world. The common areas of the building will feature a lounge, a rooftop observation deck, a glass elevator, a concierge desk, and a state-of-the-art fitness center.
Palazzo Ricci's™ grounds will include roughly 10,000 square feet (930 square meters) of private gardens, swimming pool and spa, outdoor living, dining areas, and old-world water features. The Palazzo Ricci™ Palace will be professionally managed with 24/7 staff and concierge services.
Main palace & detached cottage – 25,000 square feet (2323 m2)
Private grounds/gardens – 10,000 square feet (930 m2)
Five floors (penthouse floor, subterranean common area floor & three main floors of residences)
Close to shops, restaurants, medieval castle, markets, and hospital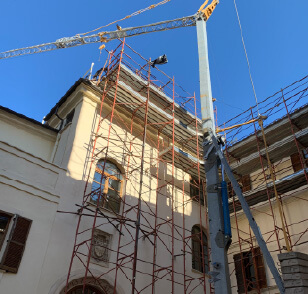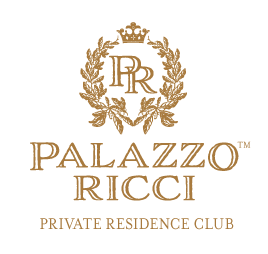 Renovation & Building Design
Management
Combined 85 years of renovation, construction, and design experience
Local architects, engineers, craftsmen
The exterior of the Palazzo will be painstakingly restored, recreating the imposing facades which for centuries have fronted Casoli's most important private building.
The Palazzo will be completely renovated to meet the highest standards of modern architecture, energy efficiency, engineering, and seismic stability with the preservation of its original classic design and details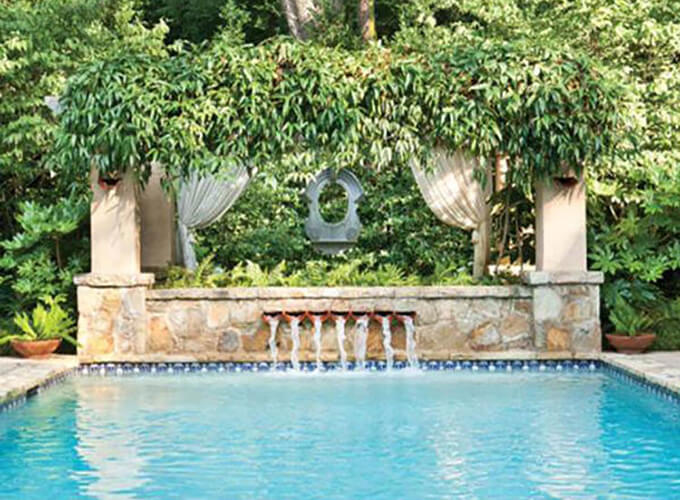 Italy is known for its spectacular landscapes and gardens. Palazzo Ricci's™
grounds will be no exception and will include roughly 10,000 square feet (930 square meters) of private gardens, luxury swimming pool & jacuzzi, gym, outdoor living, dining areas, and old-world water features.
History of Palazzo Ricci™

Palazzo Ricci™ has a rich history spanning centuries. From 1799, it has provided the prominent and noble Ricci family with a beautiful home and many memories. Along with extended family, the Ricci's entertained dignitaries, royalty, and some of the most famous artists and writers of the time. During World War II, Palazzo Ricci™ served as an officer's residence for both German and British regional commanders.
10,000 square feet (929 sq m2) of private gardens
Secluded sitting areas
Luxury swimming pool
Fitness center
Outdoor living and dining areas
Built in barbecues and fire pits
Old-world water features
Covered walkways and terraces.
(This artistic illustration is a draft of the planned Palazzo Ricci™ garden. Completed plans are forthcoming.)
14 separate residences approximately 600 to 2000 square feet (56 to 186 m2)
One 1-bedroom studio
Three 1-bedroom residences
Six 2-bedroom residences (one with loft)
Three 3-bedroom residences (including adjacent cottage)
One Penthouse (3-bedroom with direct elevator access)
Each residence enjoys luxurious, 5-star accommodations
Each residence equipped with full gourmet kitchen
Architectural | Interior Highlights
Classic and or Rustic Italian decors
Expansive Floor Plans with Spacious Entertaining Areas
Floor to Ceiling Dual Glazed Classic Italian Shuttered Windowed Doors
Master Bedroom Suites with Spacious Master Bathrooms
Elegantly Appointed Bathrooms with Marble and Travertine Finishing
Gourmet Kitchens with High-End Appliances
Terraces and Balconies with Classic Railings
Elegant Fireplaces (most residences)
Elevator Access to All Residences, Penthouse Residence has Direct Access
Repurposed Natural Stone and Reclaimed Wood Throughout
Laundry in each Residence
Central Heat and Air Conditioning
Classic Italian Flooring in Tile, Marble and Travertine
One of a Kind Custom Made and Repurposed Furnishings and Art Throughout
Fill out this form and one of our qualified agents will respectfully send you our prospectus.